A few words about us
Little City Kitchen Co. is built around the belief exposing kids at an early age to various flavors, textures, and spices sets them up to be healthy eaters later in life.  We've developed seasonal and International-inspired baby foods that your little ones will love with the nutritional content that you can feel good about as a parent.
Baby Food & Classes
What we offer
Handcrafted organic baby food
Private interactive cooking classes
Cooking demonstrations
Baby shower gifts
Gift Certificates
Read more
Testimonials
"I became enamored with Jill's baby food not only when I understood that it was an organic, locally produced alternative for busy mothers who want to feed their babies healthy, tasty, whole foods but also as soon as I tasted her delicious creations!  I believe and teach my families that baby food should taste good and feeding your baby can be a fun experience.  I feel really good about Jill's food in terms of its nutritional content and yummy flavors."
Dr. Julia Getzelman, MD - Owner & Founder of GetzWell Pediatrics 
LCKC at a glance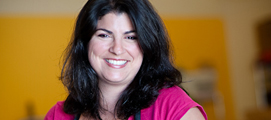 Jill Epner, Owner of LCKC
Jill Epner is a life-long foodie and the owner of Little City Kitchen Co. In early 2011, she launched an International baby food line in addition to her seasonal baby food now available at area farmers markets.
From Pipedream to Reality
Prior to the launch of Little City Kitchen Co., Jill spent 10 years in sales & marketing for a major hotel company. Starting a cooking company had been a pipedream of hers, so she decided to take the big leap in June 2010 and Little City Kitchen Co. was born.